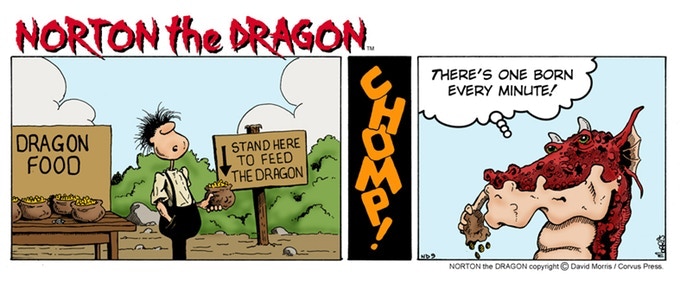 We're delighted to announce the publication of our newest title- The Tale of Norton the Dragon! Originally published as a newspaper strip in the 80s, Norton came to greater acclaim more recently in LAMP magazine (Literature, Art, Music and Performance). The Tale of Norton the Dragon collects the best of these strips, while also providing a new origin story for Norton himself!
The comic is a tongue-in-cheek journey through mythological and historical England, following Norton himself as he causes no havoc across the countryside; he goes fishing for whales, he kidnaps Rudolph the reindeer and he gets vandalized (by the Vandals). With Morris' art bringing everything to life like a more anglo-centric Asterix, it's bright, hilarious and wonderfully readable.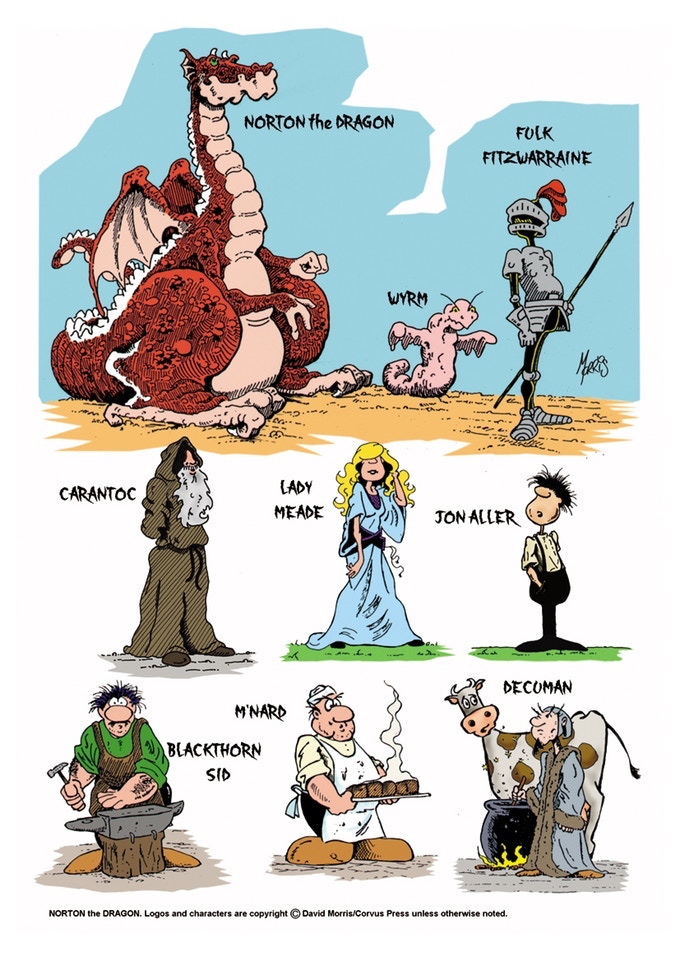 Square printed and perfect bound, the new collection is 60 full-colour pages of all-ages adventures. With great lines, historical humour and lovable characters, Norton the Dragon is perfect for anyone who likes wordplay, excitement or the lighter side of mythology (if you're looking to pick up a good present, this is a great choice!)
To celebrate the release we've got some special creator insights from David himself:
"It was while I was taking a night school photography class, not long after moving to Taunton that I first came across the Norton dragon legend. I'd been looking for subject matter to photograph and delving into local history when I heard about the Rood Screen in the church depicting the dragon which led to a photography project based on the Somerset dragons.
The character of Norton the Dragon started life in the late 1980's, initially it was as an idea for the cover of a tourist guide for the Taunton Deane area of Somerset. It never got used but the character stuck with me.
Norton then briefly appeared in a cartoon strip for a local weekly newspaper. It didn't run for very long and I got distracted by other projects, so he wallowed in obscurity for many years. He was revived in 2014 for LAMP (Literature, Art, Music and Performance), a local bi-monthly arts magazine, published by Lionel Ward of Brendon Books in Taunton, where he currently resides.
Steve had been pestering me to bring a book out and he was joined by my wife Liz, Mike Allwood and several others telling me to get on and do it!
When it went up on Kickstarter it was originally intended to be around 36 pages of strips with a bit of text at the back regarding the history of the dragon legend. Somehow during the campaign, it became a 60 page book (which I'm still not sure where that came from?)
Adding the extra pages caused me to rethink the whole project resulting in the book as it is now, bigger and I hope better than the one originally conceived.
Although that beggars the question as to how bad the book was in the first place!
The most exciting thing about the collection is that it's finally got Steve off my back!"