Tomorrow is the release date of our newest title, Dick Turpin and the Vengeful Shade! To celebrate, writer Steve Tanner (Flintlock, The Clockwork Cavalier, etc.) has been kind enough to share a little on his creative process, along with original artwork from artist Roland Bird ( FutureQuake, 100% Biodegradable). Below we've got a few paragraphs from Steve about creating Dick Turpin as well as character studies, and sketches and scripts for the first three pages.
Over to Steve:
The original scripts for the opening pages of Dick Turpin and the Vengeful Shade highlight one key difference – the story is broken down into weeks rather than pages! That's because when the story was first conceived – in a conversation with editor Paul H Birch at a local comics convention way back in 2011 – it was intended to run as a weekly comic strip on a newspaper website over the course of a year. So, each page of the story was originally written to end on a cliff-hanger, and you can see that carried through to the final book.
Unfortunately the website folded before the original plan was realised but it's why the end result is quite fast paced I think – every page had to move the plot forward. At the same time there was an awareness that each of its 52 episodes would ultimately be collected in a conventional book format, so when writing the weekly episodes I was always conscious of how the pages would fall when printed so made sure that key reveals and splash pages would always happen on even numbered left facing pages.
The scripts here also show the original dialogue, and it's a great example of how working with Paul really improved the story further. On the opening page in particular it originally was too wordy, so that editorial input made me pare things down without losing any of the intent. It's a great example of why you need that editor's eye, it really does make a difference.
Character Sketches
Dick Turpin and Tom King by Roland Bird

Dick Turpin Character Sketches by Roland Bird

Tom King Character Sketches by Roland Bird
Script and Sketch Page Samples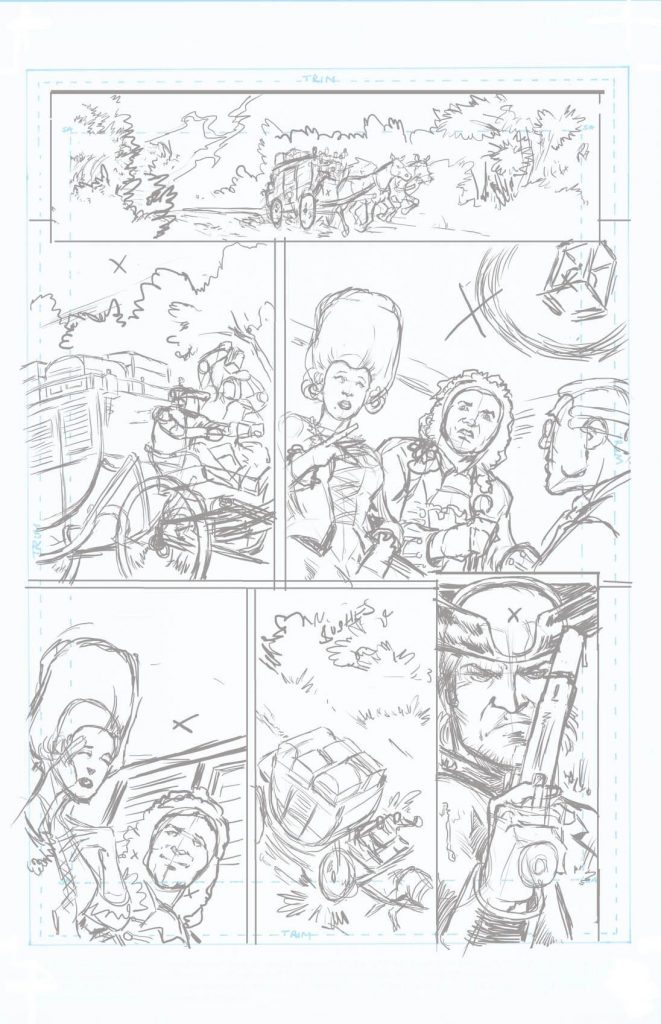 WEEK 1
1.
Long, tight panoramic shot of a coach drawn by two horses rattling along a forest road at night. We see the coach and horses in silhouette here, and it seems tiny beneath a great expanse of sky that's lit by a jagged thunderbolt streaking across it. It's the middle of a thunderstorm and rain is lashing down – and will continue to do so for most of our tale. I think this would work better if we can't see too much of the treeline here, if at all.
BOX: 1731.
BOX: EPPING FOREST, ENGLAND.
SFX: KRAK-a -BOOM!
BOX: ALL HALLOW'S EVE.
2.
Medium shot of the coach and we now see it in some detail. It's classic early 18th century design, and has a coat of arms on each of the side doors. We can't see inside the coach as the windows have been shuttered off to protect the passengers from the weather. A driver – PRESTON – and his second – BEEVERS – sit at the front of the coach, heavy coats pulled around them and hats pulled down over their faces as they desperately attempt to keep dry. PRESTON is in his 40's, but looks a fair bit older, with lank hair hanging loosely down over his ears. BEEVERS is in his 20's, fairly stocky and well-built. Both are career-coachmen, knowing their place and positions and behaving accordingly. PRESTON has tight grip of the reins and BEEVERS is holding a square hand lantern that shines a light forward ineffectually over the horses heads. Behind them the roof of the coach is laden with cases and trunks, and it's clear that they're travelling along far too fast: the horses are wide-eyed, foam sprays from the edges of their mouths and the mud of the road spatters up. The dialogue comes from within.
MARY: GOOD GRACIOUS!
STURROCK: IT'S JUST A HEAVY STORM, M'LADY, NOTHING TO WORRY ABOUT.
ANDREWS: STURROCK'S RIGHT, MARY, IT'S OF NO CONSEQUENCE.
3.
CUT to inside the coach. We see three people: General Charles ANDREWS, his wife MARY and their manservant STURROCK.
ANDREWS is in his fifties, paunchy, with a black wig – very much the military man. He's dressed formally as befits an officer of the British Army (actually 29th Worcester regiment) and the painting below gives a good idea of how his outfit should look. The guy on horseback is the Duke of Marlborough – and that's the uniform ANDREWS is wearing. Obviously not wearing the hat inside the coach, that's on his lap, but he's also holding a silver topped cane.
MARY is sat alongside to the right of him in the coach and is clearly a bit younger than her husband, in her late twenties. She's wearing a fine elaborate period dress, dripping with jewellery and a high white wig – the top of which brushes the carriage roof. She's attractive but not overly glamorous or sexy, and has the pasty white face with bright red lips as was appropriate at the time, as well as a distinct black beauty spot just below the right side of her mouth.
STURROCK is dressed far more soberly, as befits his station. Black coat, breeches and leggings with a simple white riff, he wears the short wig that denotes his standing, with two rolls over each ear. In his thirties, STURROCK is a thin, wiry man with a small pair of glasses (those ones with no side arms) clipped over his nose. He is sat opposite his employers, surrounded by hat boxes.
As we join the coach party MARY is looking decidedly unhappy, and ANDREWS is staring fixedly ahead as he clutches the top of his cane tightly. STURROCK is looking down to the floor of the coach.
MARY: CHARLES, HOW CAN YOU SAY THAT? WE'VE BEEN RATTLING ALONG IN THIS DREADFUL CONTRAPTION FOR SIX HOURS NOW!
MARY: I THOUGHT THIS WAS SUPPOSED TO BE A SHORT-CUT?
ANDREWS: IT IS. IF I HADN'T ASKED THE DRIVER TO CUT THROUGH THE FOREST WE'D YET BE HALF-WAY. AS IT IS, WE SHOULD REACH THE LONDON ROAD WELL BEFORE MIDNIGHT.
4.
Medium close up of ANDREWS and MARY as they continue speaking. ANDREWS has turned to face his wife now, deciding he can enjoy teasing her, and there's a slight smile across his face. She has turned away from him, closing her eyes and gently touching the fingers of her right hand to her temple as if suffering a headache.
MARY: SO WE MUST BOTH ENDURE MORE OF YOUR RIDICULOUS GHOST STORIES UNTIL THEN?
ANDREWS: I DIDN'T REALISE THEY WERE SO OBJECTIONABLE, MY DEAR. PERHAPS YOU WOULD BOTH PREFER CONVERSATION OF THE REAL HORRORS THAT CAN OVERCOME US.
ANDREWS: ROGUES AND RAPSCALLIONS! CUT-THROATS AND THIEVES! HIGHWAYMEN!
5.
Cut back outside to a side view of the coach and horses as it thunders past us. The wheels are spinning way too fast as it careers along the waterlogged muddy road. The voices come from within.
MARY: I DON'T MIND, JUST SOMETHING THAT TAKES MY MIND AWAY FROM THIS DREADFUL JOURNEY.
ANDREWS: AND REPLACE YOUR BOREDOM WITH FEAR, PERHAPS?
MARY: OH, CHARLES, DON'T BE SO FOOLISH…
6.
Cut to a close-up of Dick TURPIN, nice and tight. Minimal background, if any, as he scowls out at us in full highwayman mode. Rainwater pours from the corners of his tricorn hat as he holds his Flintlock towards us.
BOX: "NOT EVEN DICK TURPIN WOULD BE TRAIPSING THE ROADS IN THIS WEATHER!"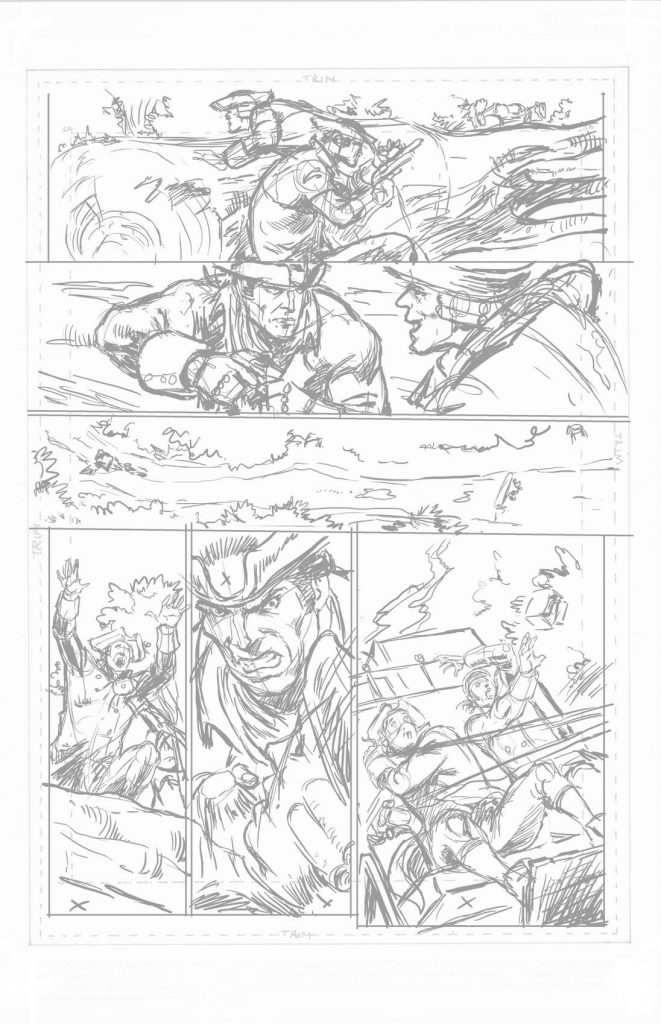 WEEK 2
1.
We zoom back sharply to see that TURPIN is sat behind the trunk of a large fallen tree that has been dragged across the road, effectively blocking it off. Tom KING is next to him, but where TURPIN has his back to the tree trunk (using it to shelter from the lashing rain and to keep himself hidden) his accomplice is crouched forward, almost leaning over the tree and peering down the road. Both are wearing heavy dark coats, and TURPIN is wiping the rain off his pistol with his neckerchief. The surrounds should indicate that the two highwayman are a little further down the roadway that the coach is travelling down. It would be a nice touch if their two horses can just be seen tied up just beyond the tree-line, but not essential.
KING: DAMNATION, TURPIN! WHERE'S THIS INFERNAL COACH?
TURPIN: THIS STORM'S SLOWED IT SOME, I RECKON.
KING: IF IT'S COMING AT ALL! I JUST HOPE IT WILL BE WORTH US DRAGGING THIS FALLEN OAK HALF-WAY THROUGH THE FOREST…
2.
Closer in on them both as KING quickly crouches back down and regards TURPIN with a grin. As he does this TURPIN is placing the flintlock into the holster strapped inside his coat, his head bowed.
TURPIN: WE NEEDED SOMETHING TO SLOW THEM DOWN WITHOUT GETTING THE FLINTLOCKS TOO DAMP.
TURPIN: YOU CALL IT A NIGHT IF IT'S TOO WET FOR YOU…
KING: OH NO, TURPIN, I WON'T HAVE IT SAID THAT TOM KING LEAVES HIS ASSOCIATES IN THE LURCH – WHATEVER THE WEATHER!
3.
We now have a bird's eye view looking down onto the road from above. We can see the road snaking across the frame. On the far right are TURPIN and KING behind the tree which cuts across the road at an angle. On the other side of the frame we see the coach and horses rapidly approaching them.
KING: DICK! I CAN HEAR HORSES! OUR QUARRY APPROACHES!
KING: I MUST SAY THEY SEEM TO BE COMING ALONG AT A FAIR OLD PACE…
4.
Back to ground level and we're looking towards the roadblock from the direction that the coach is coming. KING has stood up, with one leg raised on top of the fallen tree and is flapping his arms wildly as he cries out in alarm.
KING: WAIT! THEY'RE NOT STOPPING! THEY HAVEN'T SEEN OUR ROAD BLOCK!
KING: HAROOOOO!!!
5.
Close in on the highwaymen as TURPIN grabs KING roughly by the collar, angry that KING is giving the game away. KING points off into the road ahead at the oncoming coach, very agitated as he tries to explain himself.
TURPIN: TOM! WHAT ARE YOU DOING?
KING: THEY NEED TO SLOW DOWN! THEY'RE LEAVING IT TOO LATE!
6.
CUT around to a medium shot of the PRESTON and BEEVERS as they suddenly realise with horror that a sizeable tree is blocking the road and they're nearly on top of it. I see this as being angled so we're just in front of the horses, looking back at the coachmen as they react.
KING (OFF): THEY'RE GOING TO CRASH!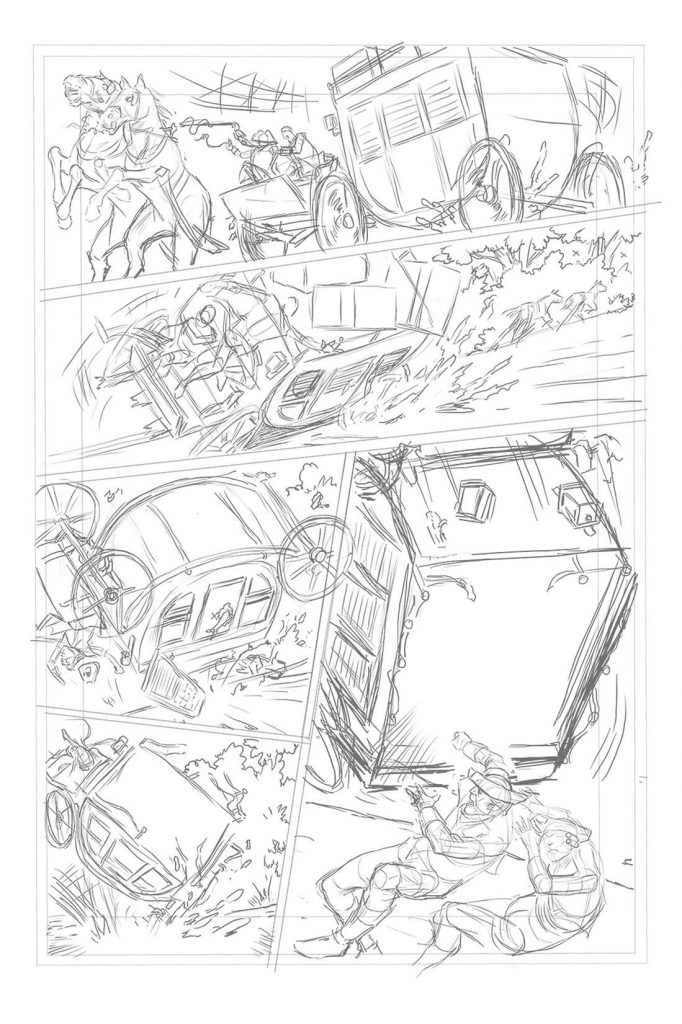 WEEK 3
Okay, this page details the coach crash. I see this as an 18th century version of one of of those spectacular crashing car roll and flip sequences that used to be the staple of any good action movie but we never seem to see any more! The coach should be central to each frame throughout, but by all means add any bells and whistles beyond what I've detailed below.
1.
PRESTON has pulled the reins far too hard and the horses are rearing up. At the same time the coach itself is beginning to slide around as its momentum keeps pushing it forward.
BEEVERS: REIN IN! REIN IN!
2.
The cradle attaching the horses to the coach has sheared off so the horses make their exit while we follow the coach. The coach is falling over on its side now, one of the back wheels shattering with the unexpected weight. BEEVERS is thrown into the air.
PRESTON: WE'RE GOING OVER!
3.
The coach is in mid-roll, upside down in the air as it continues to propel forward. The bags on the roof are being scattered everywhere. One of the side doors has broken off and we can see the flailing arm of MARY reaching out from within.
MARY: EEEEEEEEEEEEE!!!
4.
Having made one complete roll the coach is now turning again, this time the back end rising up as it begins to flip tail-over-end.
5.
The coach is now falling forward on its way to landing on its roof, looking very battered. However angle this so we're right behind TURPIN and KING, looking up at them crouched down and holding their arms up – the coach looks as if it's going to land on them.
KING:                                     TURPIN, LOOK OUT!
END OF SAMPLE. Find out what happens next in Dick Turpin and the Vengeful Shade, avaliable in our store from 16/June/2020!