Well, that happened fast!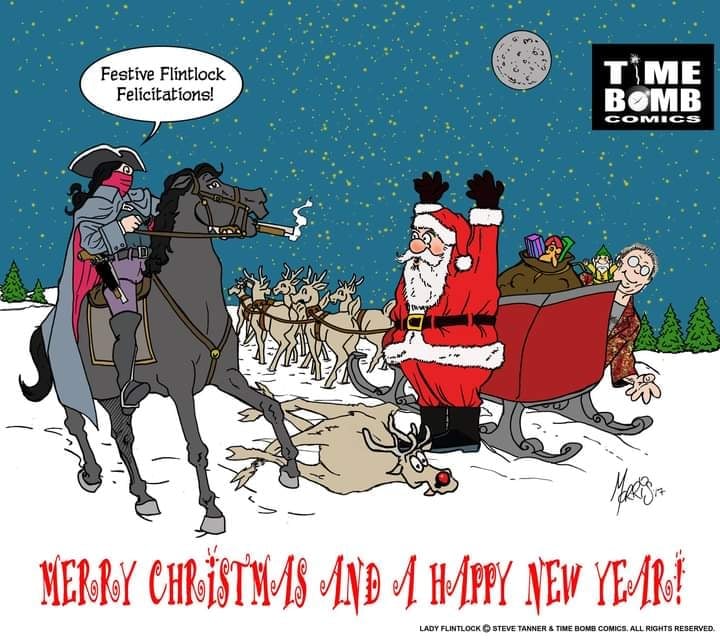 Next time I talk to you it'll be 2022! Another weird year gone. I hope it's been okay for all of you. Keep going and have a happy December!
– Katie, Digital Overlord
And 2022 is going to be a big one-
We are delighted to announce that 2022 marks the 15th anniversary of Time Bomb Comics. This is a huge milestone for any indie publisher, and it's only through your ongoing support that we've been able to get this far.
From our launch in 2007 we have worked hard to bring the best in new classic comics. Time Bomb Comics started out an even smaller company than it is now: our publisher in chief Steve Tanner began the company as a labour of love. Since then, while we have expanded the editorial and publishing team to now include four people, we're still lucky enough to be led by Steve in all our work.
The first title to be published, Ragamuffins, came from Steve Tanner and small-press artist Andrew Dodd. Ragamuffins was a wild, psychedelic time travel story which proved that there was space for the sort of work we wanted to do in the indie comics scene. Although that first release was very rough around the edges, Steve liked the concept so much that he rewrote it for Time Bomb's 10th anniversary in 2017, bringing in artist Mike Bunt for this complete rework, as well as Ben Lopez- who would become a Time Bomb staple creator.
Originally planning to focus on one-shot graphic novels, over the next several years Time Bomb made a gradual shift from unknown small-press to having much a wider reach and awareness within the UK comics community, no doubt helped by beginning to publish regular series from 2015.
Since then we have built up an impressive list of ongoing titles: anthologies like Brawler and Bomb Scares, and the cult favourite Flintlock.
Flintlock might be the title which has defined our place as a publisher the most clearly: Steve Tanner's historical adventures in the 18th century has been a critical and reader darling since its launch in April 2016. Starring characters like Shanti the Pirate Queen, the Clockwork Cavalier and Lady Flintlock herself, the diverse stories and exciting narratives have comic has led to it becoming a foundation of our identity. Its popularity and excellence have led to five volumes, with the final sixth coming out in 2022, as well as The Clockwork Cavalier and Dick Turpin spin-off titles.
Another recent benchmark for Time Bomb has been securing the rights to cult classic detective comic, Harker. Working with Harker creators Vince Danks and Roger Gibson to bring new stories to life and republish the originals has been a huge success for us so far, and has brought us a whole new audience.
In 2021, Time Bomb Comics was one of just five publishers shortlisted for Best UK Publisher in the Tripwire Awards. Ultimately placing second to Titan Comics, this was still a ringing endorsement of Time Bomb's transition into our position today as one of the familiar mainstays of UK comics publishing.
With even more exciting announcements coming out soon, we're so grateful to all of you out there supporting us- whether you're buying everything we've published or just saying hi at a con, we're so grateful. Thank you, folks!
Now back to our regularly scheduled Newsletter!
Time Bomb is nominated!
Brawler and Harker are both nominated in the Comic Scene awards! Thank you so much for nominating us- it really tells us all the hard work we do to make awesome comics is appreciated. You can sign up to vote in the awards over here- please do!
Harker is funded!
Thank you so much to everyone who backed the first part of The Black Hound on Kickstarter. We'll be bringing you more news about it in the New Year, so keep your eyes open (also useful if you witness a murder!)
And coming in February…