So that sure was a month!
Nobody is doing great right now, so let me just say that I hope you're not doing too badly either. Keep on surviving however you can, wash your hands and take a nap if you need it. 
– Katie, Digital Overlord 
Time Bomb Digital Only Isolation Bundle!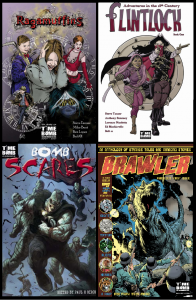 On top of the sale, Time Bomb is proud to present the Isolation Bundle: Brawler, Bomb Scares #1 & #2, Ragamuffins and Flintlock #1 for just 
£15! That's over 350 pages of adventure, horror and fun across all of time and space.  
For full details,click here.
Time Bomb on Comixology! 
We're pleased to announce more of our back catalog and recent publications have reached Comixology. New titles avaliable are:
Flintlock Volume 3
Shanti the Pirate Queen and highwaywoman Lady Flintlock herself return, both continuing their past adventures. But they aren't alone. Heroines debuting in this issue include Onna, a blind geisha living in 1740s Okinawa who befriends an old warrior, and Molly and the Trickster Thief, 1770s London confidence tricksters. 
Flintlock Volume 4
Your favourite characters are back, but this time maybe Lady Flintlock has bitten off more than she can chew. She's up against the Clockwork Cavalier- a mechanical swashbuckler who's now starred in his own oneshot! Get his backstory here. 
Brawler
Seven full colour stories from diverse creative teams! Adventure, sci-fi, martial arts, horror, dinosaurs and crime; Brawler has everything. It's Time Bomb's newest anthology- watch this space for issue 2! 
STEVE TANNER FOR THE APOCALYPSE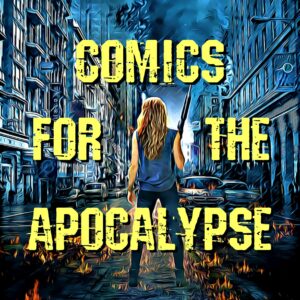 Steve- Time Bomb's Everything In Chief as well as writer of many comics (Flintlock, Dick Turpin, Brawler etc, etc;) – guest starred on podcast, COMICS FOR THE APOCALYPSE! 
It feels a little like the end times right now, so why not get some great apocalypse reading recs from a great guy? This is awesome listening whether you're working or taking your daily allocation of outdoors exercise.

Check it out here!
STEAMPAPER LIVE 
Speaking of Steve, he was online this Friday (10/04) for a live interview with SteamPaper Live- along with Accent UK's Dave West. You can watch that and all of their previous episodes on their Facebook page here.